My last few yearly recaps have been rather prophetic. I always end with a short paragraph about what I roughly want the following year to be, and so far they have been pretty spot on.
I ended 2020 hoping I'd get to travel to Asia and do the nomad thing. And I did exactly that: I spent almost the whole year in Thailand.
Similarly, I ended my 2021 recap writing this about 2022:
I can't know for sure what's going to happen in the next 12 months, but everyone in my tech-related environment is talking about Lisbon in one way or another. It seems like it's going to be a great tech hub in the upcoming months (…) I'm hoping that, somehow, I'll end up living there in 2022, hopefully surrounded at some point with many of my internet friends – and any IRL friends that get tempted.
Who knows, I might be getting good at predicting the future.
Q1: Escaping pleasure island and coming back home
The year started off as we left it in the 2021 recap: barefoot and wearing just my swimming pants and a T-shirt, welcoming 2022 in one of Koh Samui's very warm and beautiful beaches.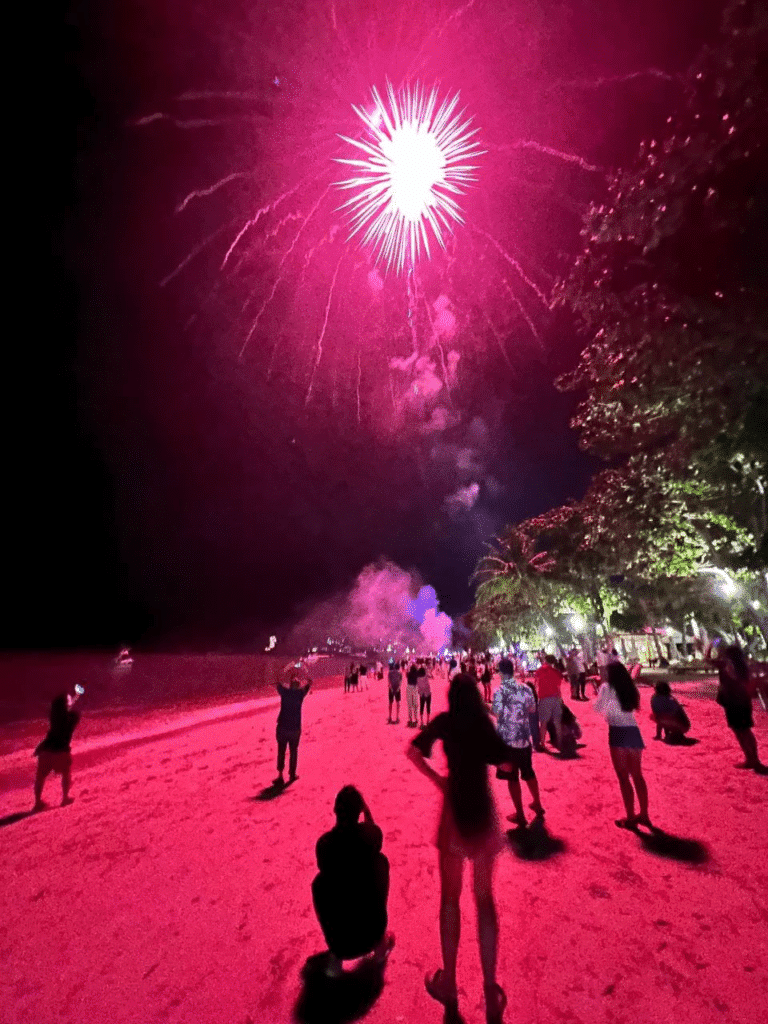 Back then I was just starting to recover from my leg surgery, making daily trips to the hospital on my black Honda Click 125cc motorbike, in order to get my wound cleaned and looked at. Luckily it ended up healing well, and one year later the only thing I have left is an ugly scar in the leg (almost in the shape of Koh Samui, coincidentially) – a weird souvenir from my time in the island. A patch of skin in which no single hair grows and where I feel nothing at all, but that ocasionally serves as a good enough conversation starter.
I kicked off the first leg of the year (get it?) by building and shipping LooksMutable (a web app to raise awareness about some technical issues and misconceptions about NFTs) from my favorite cafe on the island, surrounded by friends:
While the project itself got some attention on launch day, it was my two writeups on the matter (one technical, the other one more high-level) that really got the eyes of many people, including some working on the company developing IPFS, the very technology I was writing about.
A few days after that we got the bad news that Russia started invading Ukraine, and I made some open-source software called Embargoed that got mildly viral:
By the end of February, a few things were going on:
The Covid situation in Thailand got better, allowing for more travel (I had been stuck in Samui for almost a year at this point)
I was starting to get bored of Samui. The island is not that big, and I already had time to even get familiar with the hospital – enough of the island for me
Some friends started leaving for Bangkok already
It was about time I headed back home to see my girlfriend and family
So I started planning the trip back to Spain. Not without a much needed month-long stop in Bangkok, though, because all I wanted to do before heading back was to live in an Asian megacity for the first time in my life.
So I bought a plane ticket, packed all my stuff, went to a nice viewpoint to reflect on the Samui experience and say my goodbyes to the island, and got all melancholic seeing planes land and take off from USM. I had a small farewell dinner with my friend Cam and his girlfriend, who both stayed there, and the very next morning I took the plane that would fly me to Bangkok.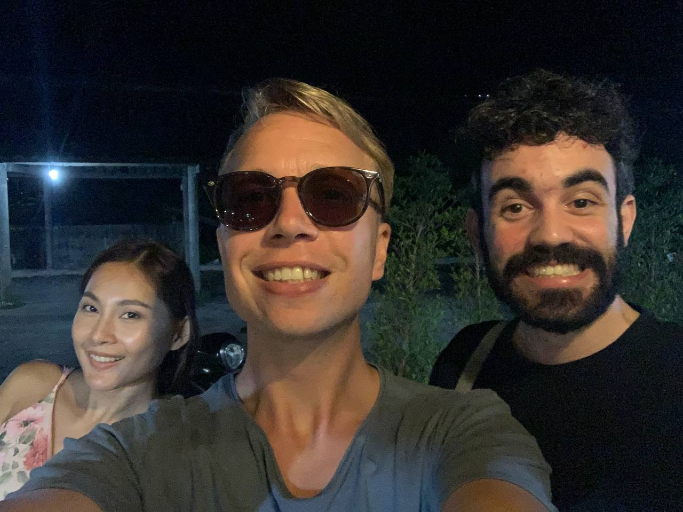 Bangkok was amazing.
Out of this world. A truly eye-opening experience, especially after spending so many months in the islands and thinking I already had a rough idea what Thailand was about.
Bangkok is a city of intense contrasts. It's multiple cities in one. If you stick to the ground level you'll experience the heat, the roaches and the rats, the street food and the traffic, the smells and the noise. But it's a radically different experience if you go from rooftop to rooftop, hailing a Grab only to go from one building to the next one. Life in the heights of Bangkok is the most futuristic, sophisticated, luxurious and mindblowing thing I've ever lived.
My friend Pieter, who together with Andrey and Marc were pretty much my mentors during my time in Asia, recorded my reaction when I first saw the Bangkok skyline:
My experience from that moment on only became better and better. I have so many good memories and anecdotes from those weeks. I lived so many things in just a month. I met Leo from Plutio, Marty from Poolsuite and a bunch of really interesting people. I can't thank my friends enough for helping me and showing me what Thailand was really all about.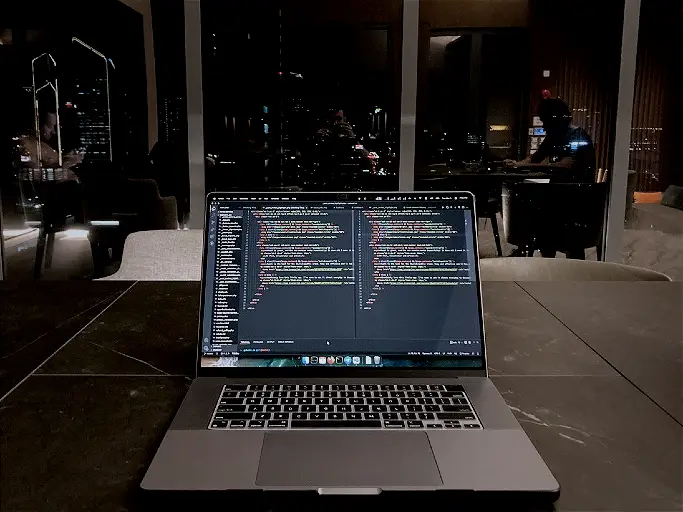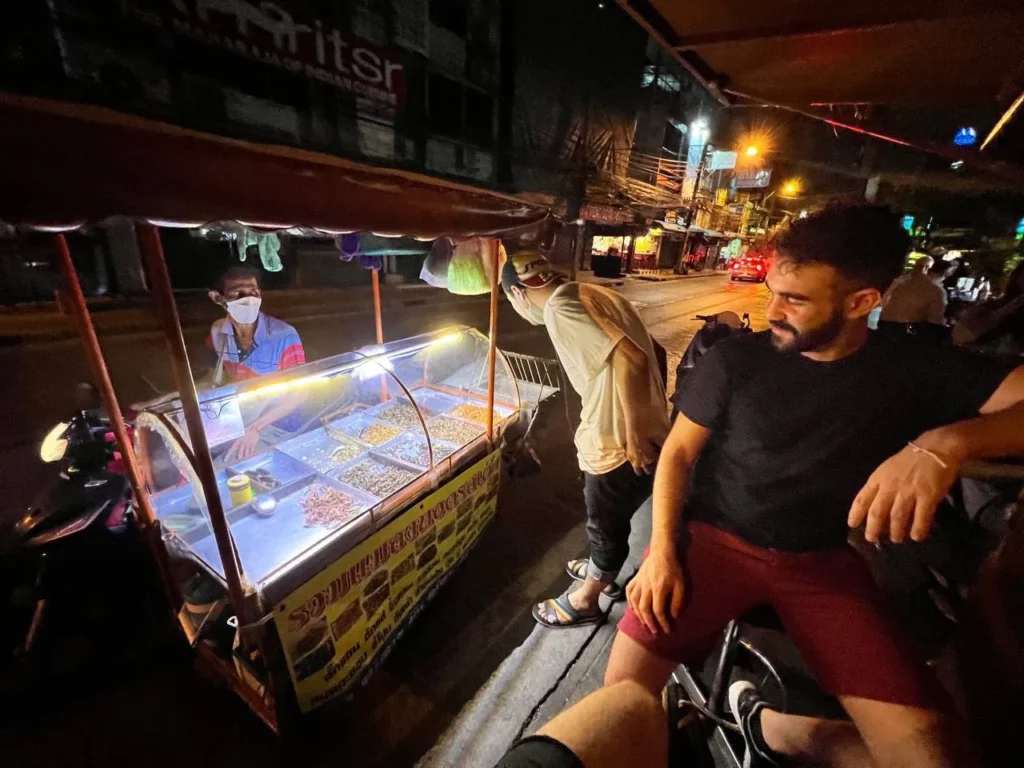 And just like that, it was time to pack things up in Bangkok and head back to Spain!
Q2: Online becomes real in Lisbon; burnout
I arrived in Spain like I left the year prior: carrying just a backpack and a small cabin suitcase.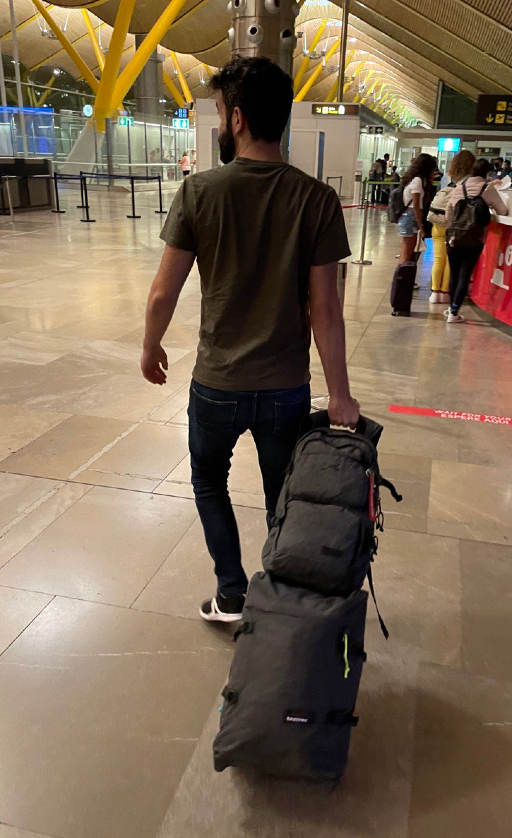 I had a pretty weird feeling the first few days after landing back in Europe. I was aware it would happen, so it didn't caught me by surprise. It's called "reverse cultural shock".
It just means something inside you changed while being abroad, and the place you once considered home now feels unfamiliar and even hostile at times. This time specifically, after having spent so much time in Asia, the thing that struck me the most was the unfriendliness and rigidity of the average customer-facing person in Europe. Asian customer service is just so much better.
Another thing was how strict and organized everything was here, especially when driving. Traffic rules in Thailand are more of general guidelines / recommendations than anything else, and it took me a while to get used to traffic rules actually being enforced here in Europe (people wearing helmets, people actually yielding to incoming traffic and pedestrians, not seeing pickup trucks full of loose goods and/or full of standing people, not seeing entire families on top of speeding motorbikes, etc.)
I wouldn't be in Spain for long, though.
After a few days in the country I headed out again to do a road trip across the southwest of France, and at my arrival I had just enough days to get ready to take a plane again, this time to Lisbon!
I flew to Lisbon for three reasons:
I already had the intention of living there long-term (it was one of my resolutions for this year!)
My friends Lenilson and Marc-Antoine were already living there.
More internet friends were coming. In fact, we had this big meetup planned for May where we were going to gather all of our internet friends in person for the first time ever.
And so, it happened!
Everyone flew in from everywhere in the world and we all put everything else on pause so we could share a few days together. After speaking daily for years, this was the first time ever most of us got to hang out in person at the same time. It was more than amazing.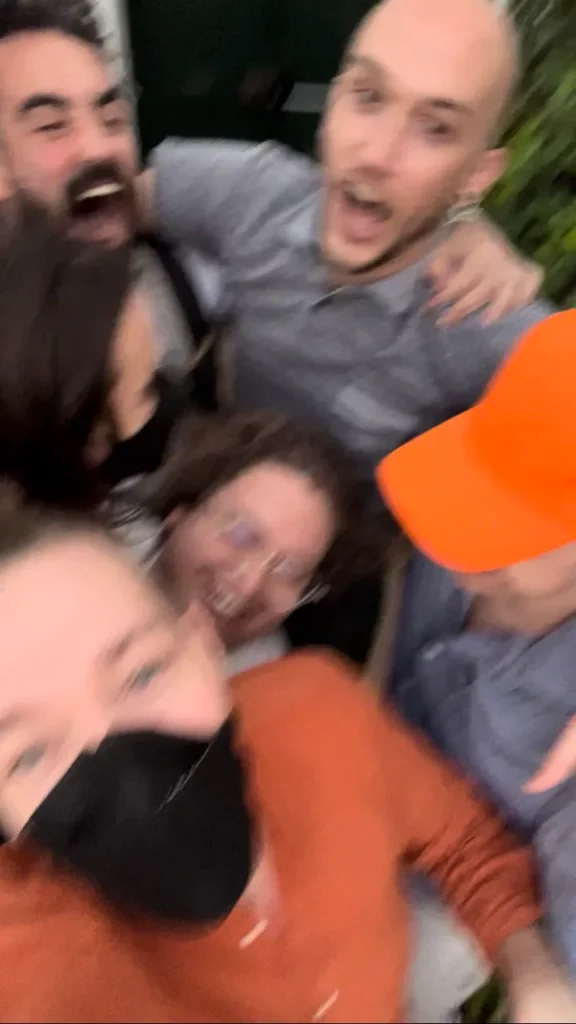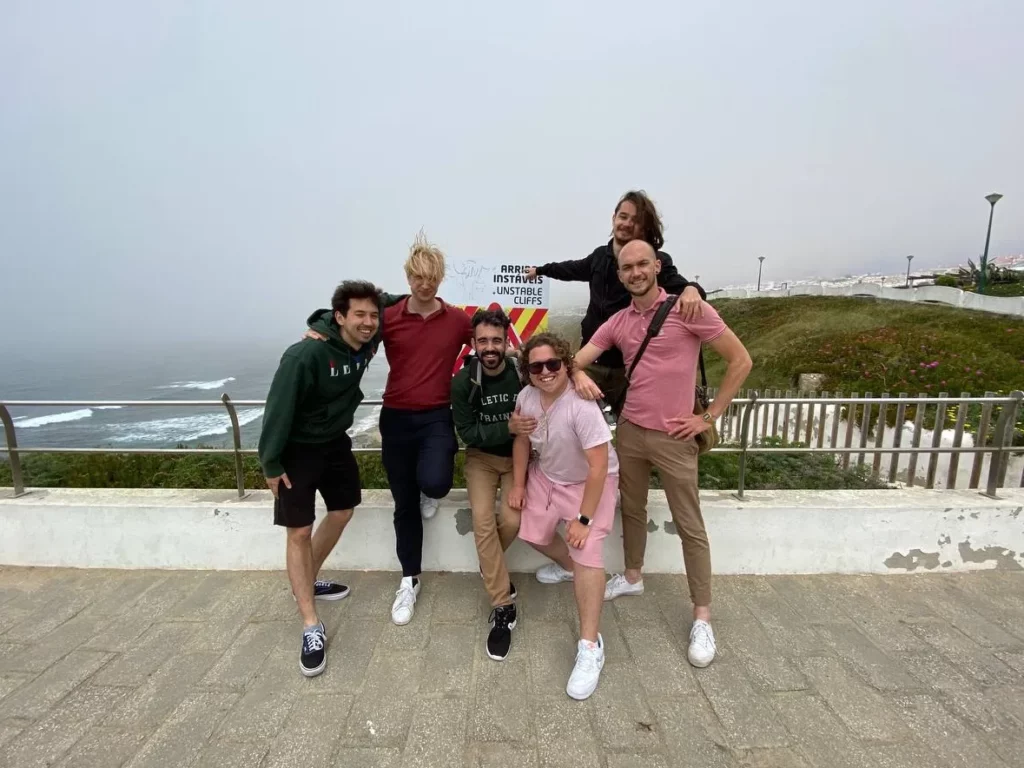 After our meetup some people left, and things got a bit more relaxed for a while.
Some other people started to arrive in Lisbon for the summer, and I kept meeting new very interesting people on a pretty regular basis. It was very stimulating.
One of those who just arrived was my friend Dan, who I met the previous year in Samui, and with whom I shared the whole Thailand experience. We lived in the same building for almost a year, and we liked to have really long and deep convos late at night – quite a bonding experience. It was amazing to see him again and share some weeks in Portugal, and it was pretty sad when we had to part ways.
Like every year, my girlfriend was organizing a TEDx talk in Madrid, and I flew back for a few days to help her with the event. Miguel, who is also a long-term internet friend of mine (and was one of my first Hustl customers!), was coincidentially giving a talk, so I met him in person for the first time and let him scan my iris with his Worldcoin orb. Like straight out of a sci-fi movie!
After the event we drove back to Lisbon, hoping to extend our stay a few more months. However, by the end of June, a few things started to pile up:
There was no viable flexible rental option in Lisbon. Unless you have a Portuguese ID card, a Portuguese guarantor, ~$5-10k in cash for deposits, pre-paid months and fees, and are willing to commit to a property for 1+ year, the local lease market is either completely out of reach for a foreigner, or just too impractical to be worth the effort. This left us with very few options: short and medium-term rentals like Airbnb, touristic apartments, hotels, and the few websites that usually operate flexible accomodation for students (all of which rejected us systematically, because we were not commiting to a full academic year)
Rent prices starting soaring in Lisbon after Covid. It happened for everyone, but it got way worse for short and medium-term rentals, as Jun-Sep is peak tourist season in the country. Our Airbnb ~5x its price for the summer, and it was difficult to find any clean, decent apartment for less than, say, $3k/mo (which, for Portugal is quite A LOT – the minimum wage in the country is $740/mo)
Burnout. My 2022 up to this point had been pretty hectic. I didn't feel like I was able to concentrate at any point since I left Samui. I lacked focus, a routine, and direction. It had been months since I last felt the tiniest bit of creative energy within me, which is quite the thing to say for a deeply creative person. I was literally unable to sit down and get stuff done most of the time. Long months of travel, excitement, distractions and hedonism were starting to take a toll on my ability to work. Not to mention the 2022 crypto crash (which, yes, affected me) and the economic downturn that started to reflect on the business' revenue figures as early as May. I didn't know how to turn around the situation. I was effectively burned out, and the pressure of having to find an apartment in record time was not helping at all.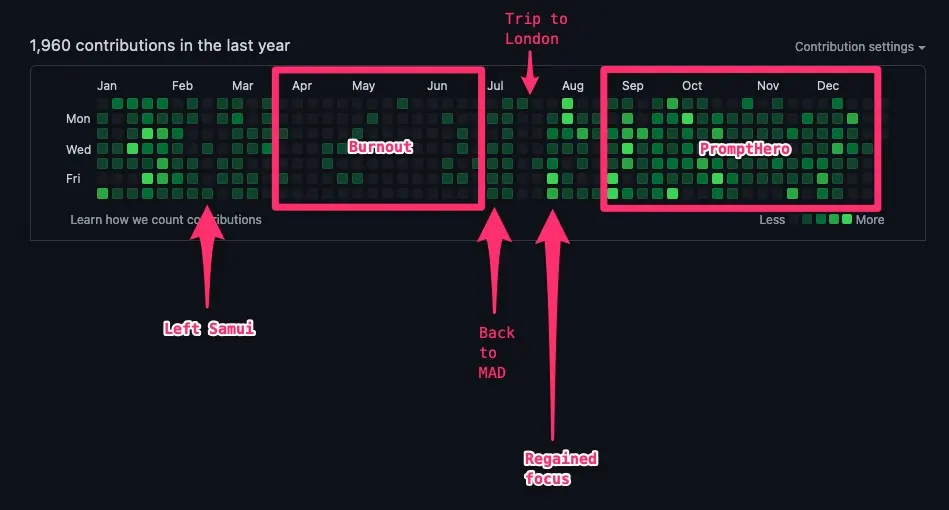 Q2 ended with a rough decision: to come back home for a few months to regain focus and plan the next step.
Q3: PromptHero
July started off in Madrid, and the midpoint of the year caught me with newfound strength and a clearer mind after stopping to worry about the apartment issue. I slowly started being able to do more and more work, and I only lost momentum due to of a short trip to London I did with my girlfriend – but regained it pretty quickly afterwards.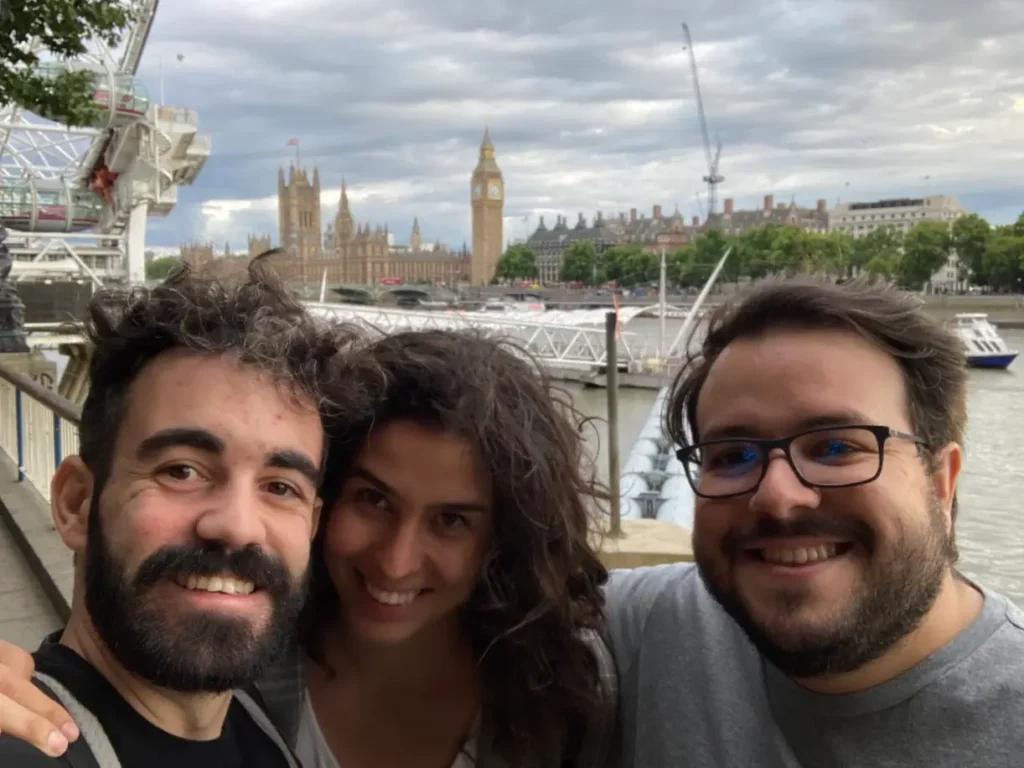 By August, I was already full steam into the new approach. I had regained a lot of creative energy, and new ideas started flowing nonstop. I was back at it again: I was writing down my ideas, evaluating them, shortlisting the best and prototyping them at the speed of light.
I was in the middle of building my fifth or sixth prototype when Stable Diffusion launched, changing the generative AI landscape forever. I was so excited with this new tech, and the hype was also over the roof on Twitter, so I knew I had to do something. I dropped everything I was doing and started making a new thing:
I started building what would end up being PromptHero, and launched it within under a week of starting it.
The website started picking up traction quickly after launch, and this technological change seemed bigger than anything I've ever seen before, certainly bigger than anything I could take on by myself.
So I called my friend Javi (yes, we share names lol), who was starting to move away from the day-to-day of running his company Tot-em, and asked him if he was interested in working together on the idea.
He was, we started working right away, and it was not long until we started working out of Google for Startups Madrid:
Q4: A quiet and remote life near the sea
The last quarter of the year was way more relaxed and work-oriented than the previous months.
We kept working on PromptHero out of Google Campus until I eventually found a nice house in Portugal and moved back near Lisbon with my girlfriend.
I tried to keep distractions to a minimum, and focused just on work. Went back to the gym, started consciously allocating weekends for hiking and hanging out with friends to keep a healthy work-life balance, and that was pretty much it.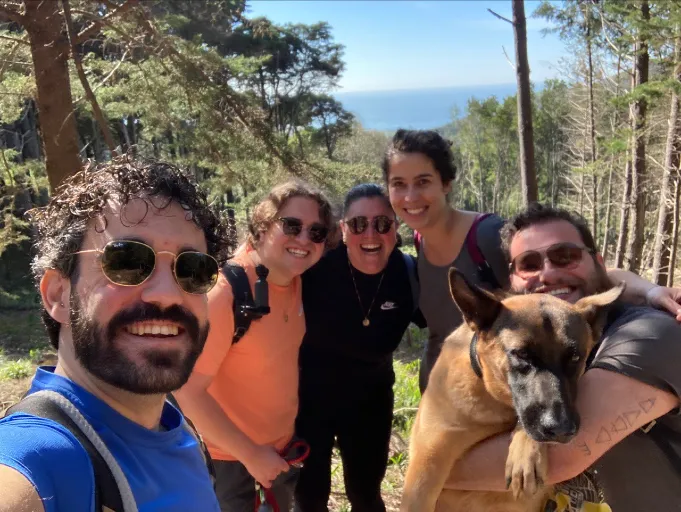 The new approach started paying off: we launched Openjourney, a custom image generation model, and it got absolutely viral in the AI community. It has now close to a million downloads on HuggingFace, and a similar number of runs on Replicate. We started making a name for ourselves, and even got featured in Fast Company!
PromptHero started growing exponentially, and as of now I'm still dealing with the technical problems derived from the massive flood of new users and endless traffic pouring into the website.
I also got featured in the Wall Street Journal almost by accident, because another revolutionary AI called ChatGPT launched, I started excitedly talking about it on Twitter and someone at WSJ saw my tweets:
In the last week of the year, Javi came visit me and we built and launched VisualHound, a custom AI to generate fashion design images!
I finished off the year by getting into the habit of making fire and coding in front of the fireplace every night:
Closing down
5 countries, a lot of cities and way too many planes – I kept doing the nomad thing well into 2022: it's been exciting and hectic. However, all of that has taken a toll on me, and I think it's time to slow down a little, and start settling down if I want to have any chance of being truly productive and making something of impact.
It's been a chaotic year. While I'm happy with what I've ended up achieving professionally, I don't think it's enough. 2022 ends on a high note with the promise of opportunity and the responsibility of having to make it work. This new AI wave is promising, but if we fail to capitalize on it then all our efforts will be in vain.
As for what 2023 will bring me, I'm as clueless as always. I'm going to be in Portugal for now, but something in my crystal ball makes me believe a big trip awaits for me next year, one that involves crossing entire oceans. Work-wise, I'm just crossing fingers that any AI thing we build works as a sustainable business.
P.S.: Follow me on Twitter to stay in the loop. I'm writing a book called Bold Hackers on making successful digital products as an indie hacker. Read other stories I've written. Subscribe below to get an alert when I publish a new post: